How Much Does a Jeep Wrangler Weigh?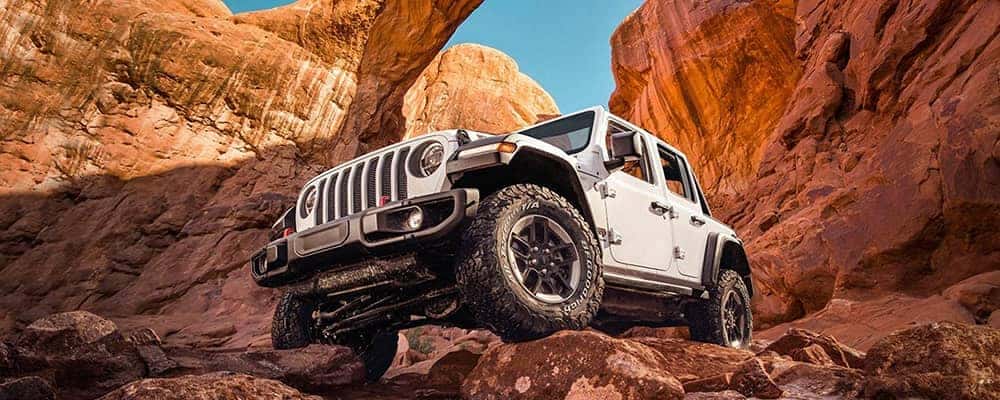 The Jeep Wrangler has been turning heads since its debut in 1986. Its rugged exterior and reliable performance have won the hearts of adventurers around the world, but it's Jeeps off-road capabilities that bring customers back year-after-year. Add to that its impressive list of features to enhance your comfort, and top of the line technology, and it's easy to understand why Jeep Wrangler fans have an almost cult-like enthusiasm.
We get asked a lot of questions at Ron Sayer, and one of those questions is, "How much does a Jeep Wrangler weigh?" It depends on the specific trim, but the weight of the 2019 Jeep Wrangler can range from 3,970 pounds to 4,439 pounds. Keep reading, or contact us in Idaho Falls for more information from our expert team.
The Weight of the 2019 Jeep Wrangler by Trim
Looking to enhance your Blackfoot ride with a new Jeep? Here's more information about the Wrangler weight by configuration:
2019 Jeep Wrangler Sport weighs 3,970 pounds
2019 Jeep Wrangler Unlimited Sport weighs 4,201 pounds
2019 Jeep Wrangler Unlimited Sport weighs 4,201 pounds
2019 Jeep Wrangler Unlimited Moab weighs 4,345 pounds
2019 Jeep Wrangler Unlimited Sahara weighs 4,431 pounds
2019 Jeep Wrangler Unlimited Rubicon weighs 4,439 pounds
2019 Jeep Wrangler Specs
You may be wondering why vehicle weight matters. There is some correlation between vehicle weight and safety. In general, the heavier it is, the safer it is. Also, lighter cars tend to get better gas mileage and have a higher towing capacity. The important thing, though, is that you choose the Jeep Wrangler color and trim you love! Choose the Wrangler that feels right and excites you every time you climb in and turn on the ignition.
Now that you know what the Jeep Wrangler weighs, you're probably wondering about engine performance. The 2019 Jeep Wrangler offers two outstanding engine options to Pocatello drivers:
It comes standard with the 3.6L Pentastar, a V6 engine that produces 285 hp and 260 lb-ft of torque.
The other option is the 2.0L Direct-Injection Turbo engine that produces 270 hp and 295 lb.-ft of torque. Both engines provide a maximum towing capacity of 3,500 pounds.
Explore Jeep Wrangler Weight & Specs Today!
Want to learn more about the Jeep Wrangler weight and performance features? Drop by the showroom near Rexburg to discover more about this model and take one for a test drive! If you have any questions in the meantime, please don't hesitate to contact us. We look forward to helping you find the right Jeep for all your adventures.
More on the 2019 Jeep Wrangler
The Jeep Wrangler has been turning heads since its debut in 1986. Its rugged exterior and reliable performance have won the hearts of adventurers around the world, but it's Jeeps off-road capabilities that bring customers back year-after-year. Add to that its impressive list of features to enhance your comfort, and top of the line technology,…

If you're intent on keeping fun and unique style in your off-road capable vehicle of choice, the 2019 Jeep Wrangler should be at the top of your list. With 10 available color options, this tough SUV is sure to fit your personality, no matter which you choose. Read our guide to new Jeep Wrangler colors…

When equipped with the right accessories and configured with the Trailer Tow Group, the Jeep Wrangler reaches a maximum towing capacity of 3,500 pounds. Whether you're transporting ATVs for an off-road adventure near Blackfoot or you're helping a friend with a small DIY project, the Wrangler towing capacity will exceed your expectations. Learn more about…