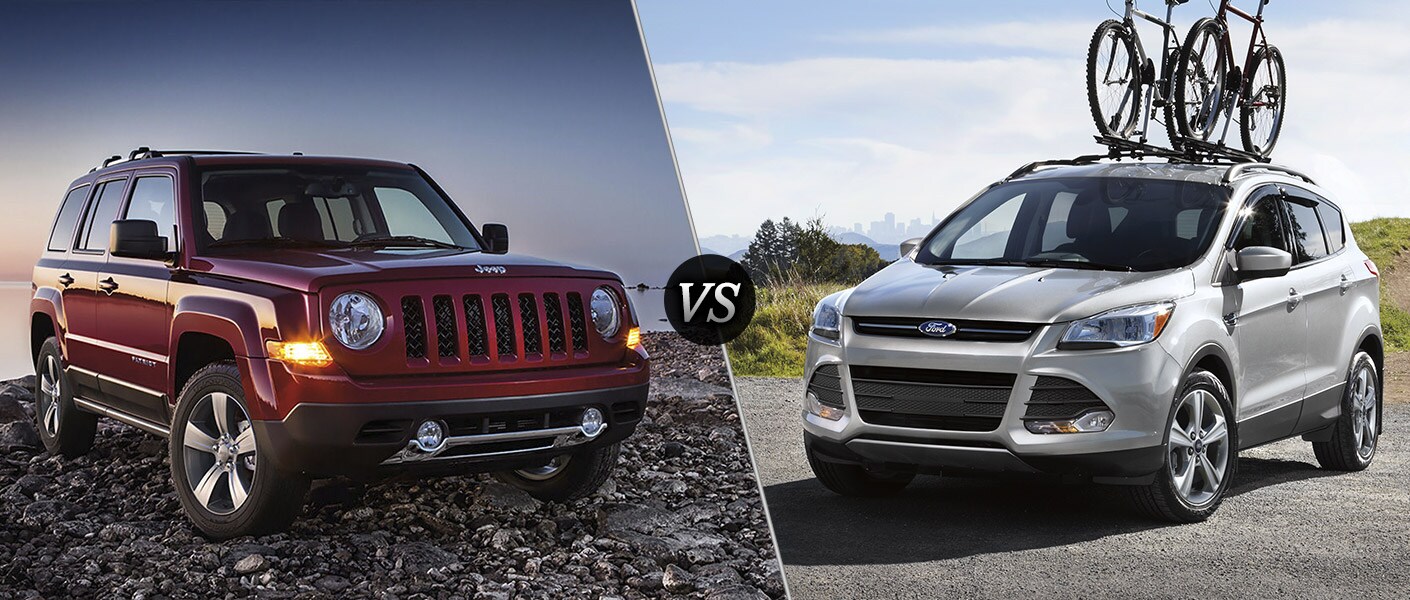 When it comes to choosing your new crossover SUV, it can be tough to make the decisions. With so many great vehicles available in today's crowded automotive marketplace, the team at Ron Sayer wants to make your car shopping process easier. Today, we'll compare the 2016 Jeep Patriot and 2016 Ford Escape in order to highlight the benefits of each and show why so many car shoppers are choosing the drive home in a 2016 Jeep Patriot this year. We want to help you make the right choice on a car that fits your needs and budget. 
If you are interested in taking a closer look at the 2016 Jeep Patriot, give us a call or schedule a test drive appointment online. Our friendly and experienced team members are always happy to answer any questions you have regarding our large inventory of new and used vehicles. Also, be sure to take a moment to utilize our free online financing tools for a quicker car purchasing process! We can't wait to get you back on the road in a car that makes every drive more fun.  
| | | |
| --- | --- | --- |
|  2016 Jeep Patriot  |  VS |  2016 Ford Escape |
|  2.0L I-4 |  Engine |  2.5L I-4 |
|  104 cu. ft. |  Passenger Volume |  98 cu. ft. |
|  Optional  |  Heated Front Seats      |  Optional  |
|  $17,595 |  Base MSRP |  $23,590 |
Test Drive the 2016 Jeep Patriot in Idaho Falls, ID Today!
Looking at the exterior features, it's easy to see the differences between these two SUVs.  The classic Jeep design shines through the 2016 Patriot, with its rounded lights and classic Jeep grille. The more modern Ford Escape has streaked-back features for a more aerodynamic design that offers less head-space in the rear. Under the hood, the 2016 Patriot offers a 2.0-liter inline-four-cylinder engine, and the Ford comes with a 2.5-liter inline-four-cylinder engine. The Jeep Patriot, at the highest trim offers off-roading capability, making it stand out for its capability against that of the Ford Escape. Both vehicles offer nine different exterior color options, but the lower price and unique design of the 2016 Jeep Patriot makes it the more exciting choice. 
The simpler and more rugged interior of the 2016 Jeep Patriot, when compared to the more crowded and complicated control center of the 2016 Ford Escape, shows the talent of the design team at Jeep for creating a SUV with great features, without the bigger price tag. For the higher price, the Ford Escape adds convenience technology like a first-row LCD screen and larger speaker system. For the much more affordable price, Jeep buyers can still choose to add features like the interior LCD screen, but without adding the crowded-looking center stack inside the 2016 Ford Escape. Whether you want to add extra features, or love the affordable simplicity of the great-looking Patriot, the team at Ron Sayer is happy to help you make the right choice.